Centre for Child Protection






A pioneering centre promoting just, protective and enabling environment for children, in partnership with the various child rights actors



1. The Context
India is the residence of more than 500 million (40 %) children below the age of 18 years. With an estimated 40 per cent of India's children vulnerable to violence, abuse, and exploitation, creating protective environment for the children remains a serious concern in India given its feudal and patriarchal roots. This societal milieu brings along with it issues of child protection which become further difficult to deal with, caste and gender base discrimination dimensions. India has high levels of gender discrimination which has resulted in low levels of sex ratio, high incidences of child labour, child marriage, sexual abuse and corporal punishment. In the context of Rajasthan the violation of child protection is evident in the dismal statistics and indicators related to child protection:
• Rajasthan rank 3rd in country in Child Labour (census 2011)
• In Rajasthan more than 50 percent girl getting married below legal age of 18 years in state (DLHS III)
• In Rajasthan more than 50 percent of children reported child abuse (Child Abuse Study 2007)
• 20 point declining in sex ratio in last 10 years in state (census 2011)
• Several manifestation of child protection such as inwards and outward trafficking of children, incidence of corporal punishment, neglect, abandonment of girl child and increasing number of children living on streets and railway terminals etc.

The child is not viewed as an entity that has rights and entitlements by the society. Hence, any discourse around the rights of the child does not get immediate support of the community. A coordinated effort between different departments like women and child, home and social empowerment and justice is required to ensure that there is regular monitoring of implementation of the law. But often this inter departmental coordination is lacking.

The ICPS is now being rolled out in most of the state of India; however, there are still many areas that need strengthening to ensure effective implementation of the scheme at state, district, and sub district levels. At present, the scheme is still in its initial stage of implementation – adequate numbers of qualified and trained personnel are not in place, District Child Protection Units, Block and Panchayat and village level Child protection committee are not fully equipped to respond to protection concerns, and linkages and coordination mechanisms for referral have not been adequately established thus far. In essence, there is lack of established programmes, protocols and processes, and qualified and trained personnel to implement the programmes, to address protection concerns of children. For this reason, while the current thrust at national level is on establishing and strengthening child protection structures – namely, State and District Child Protection Units, and programmes under ICPS, this is a critical juncture at which to inform these processes with innovation.

2. Rational for establishment of 'Centre for Child Protection'
The efforts for child protection in our country are in a nascent stage with extremely poor understanding about the child protection issue among stakeholders. There is not a single child protection specialized agencies exitant in country that can lead on building the capacity of government officials and civil societies working in the area of Child Protection. Currently there are no academic courses in any university and colleges across country that creates professionals with knowledge and expertise in child protection. None of the social science colleges and university teaches child protection as subject in any ways. On the other hand child protection programming and its implementation would need huge number of professionals skilled in various aspects of child protection issues resulted into huge dearth of people with right set of knowledge and skill in the area of child protection.

In absence of skilled and trained people in the area of child protection, the manifestations of the same reflective in the implementation status of the CP scheme Integrated Child Protection Scheme are several:
• Poor understanding and knowledge about child protection issues resulting into low priorities as well as lack of confidence among stakeholders during dealing with children in need of care and protection
• Overall "know how" capacity gaps among stakeholders
• Poor quality guidelines and Standard Operating Procedures (SoPs) related to CP program
• Less effective and poor quality of CP program implementation status
• More focus on institutional care in absence of clear and specific guidelines and programme related to non-institutional care
• High percentage of child abuse and exploitation in all kind of institutional set up.
• High number and long pendency cases of children under CWC and JJB
• Lack of institutional backup or academician support in the area of child protection resulted in to huge dearth of skilled child protection professionals

Currently National Institute of Public Cooperation and Child Development (NIPCCID) is nodal is also a nodal agencies for building of ICPS functionaries but with limited staff and presence they have been unsuccessful until now to meet the requirement to country and states. Given the size, context and complexities of the child protection program in our country India and the existenthuman capacity gap, there is need of such an institution which with its national and regional presence can cater to the need, demand and requirement of the child protection issue in the related to following areas:
1. As Academic institution to develop a cadre of skilled professional in the area of child protection and other areas related to children.
2. Institutionalized capacity building program for on job staffs on regular basis specially for SJPU, AHTU, CWC, JJB and various committee members
3. Technical resource group and agencies that facilitate formulation and review act, policy and program and strengthening implementationof the same.
4. Demonstration of workable model under child protection
5. Centralized and high quality capacity building course, program and module
6. Handholding support in drafting rules, guidelines, standards operating procedure (SoPs) and functioning of committee.

As per the below estimate more than 8.2 million stakeholders at different level in country (annexure 1) and 1.1 Million stakeholders in Rajasthan (Annexure) required training and support in addressing the child protection issues with efficient and effective manners. To reach to these stakeholders state and district level highly trained and professional experts will be created by the specialized child protection institute through different kind of short and long terms courses and capacity building programme on regular basis. This nodal institutionwill be responsible for addressing the technical and capacity building related need of the country and state.

3. Key objectives of Centre for Child Protection
1. Act as nodal and technical agency for the strengthening Special Juvenile Police Unit (SJPU) and Anti Human Trafficking Unit (AHTU) and other duty bearers.
2. Run and mainstream various courses on issue impacting life of children with focus on child protection.
3. Develop trained and skilled human resources on child protection and child rights issues.
4. Work as knowledge hub and resource agency for child protection and child rights.
5. To interact with information-related, technical, academic and research needs of various groups involved on issues relating to child protection and child rights, whether these are state-sponsored, private sector, media, community groups or others.
6. Provide consulting support and assistance to other agencies and institutions in the area concerning life of children and community.

4. Core Area and key function of the Centre for Child Protection
Core Area of Work
1. Content and course development
2. Training and orientation
3. Information Education Communication (IEC)
4. Research and Documentation
5. Liaison and Advocacy

Key Functions
a. Awareness generation about the different laws, provision, schemes and projects relating to Child Protection and Child Rights;
b. To promote research advocacy and communication that is relevant to policy and issues centered on Child
c. Research and publication- review the existing mechanism, policy and laws of Child Protection and suggestive measures
d. To serve as an active meeting ground, forum and platform of emerging ideas for all groups involved in promoting development and in enhancing realization of children rights particularly Child Protection;
e. To provide para legal, legal support and build awareness for agency and children;
f. Prevention of juvenile delinquencies–with Child Protection actors;
g. Strengthen the existing structures and institution related to child protection;
h. To produce films, undertake research, studies, documentation, and video documentation in order to raise and bring public awareness on Child Protection and child rights issues;
i. To help and facilitate effective implementation of different projects of the Central and State Government for educational and social development of all categories of stakeholders;
j. To prepare and publish papers, articles, booklets, journals, news-letters, bulletins, posters, web pages etc.
k. To organize training, seminars, workshops, conferences, public hearings and such other measures as may be necessary
l. To do all such other deeds and things either alone or in conjunction with others as are incidental or conducive to the attainment of the objects of the Centre

5. Operational Framework
This Centre has a mandate to carry out technical and multi-disciplinary work that requires engagement of experts and agency working in the area of child protection and child rights.
As the idea has originated in mutual discussion of UNICEF, Police University and IICPS (unit of Antakshari), a tri partite agreement will be worked out clearly defining the roles of the partners to establish this CentreIt is envisaged that core funding support will from UNCIEF to the Police University for the establishment and functioning of the Centre in the initial years, 3 years in minimum.
The Centre will be based at the place identified by Police University and the Police University will provide required infrastructure and facilities to start a functional small office.
UNICEF will support technically in planning and implementation of the activities' detailed action plan will be worked out.
IICPS –Antakshari Foundation will help in managing the operationalization of the plan and day to day management and coordination. It will carry out all the activities as per the action plan in collaboration with the Police University and be accountable to the envisaged outcomes of the Centre.
The Centre for Child Protection can work in close association with department for Child Rights, Home, Labour, education and other to strengthen the child protection system in state.

Dr. Bhupendra Singh, IPS
Vice-Chancellor
Addition cum Pro Vice Chancellor, SPUP
Jodhpur
Email: vc@policeuniversity.ac.in


Mr. Rajeev Sharma, IPS
Director
Educational Qualification: M.A.,M.Phil., Master in International Humanitarian Action.
Email:directorccp@policeuniversity.ac.in


Aditi Vyas
Consultant-Capacity Building & Research
Educational Qualification: PGDM (Human Resource Management, Marketing), M.A. (Clinical Psychology), B.A. (Psychology Hons.).
Email: aditi_vyas84@yahoo.com



Mr. Ashutosh Srivastava
Consultant - Course And Curriculum Development And Review Of Ongoing Course
Educational Qualification: LL.M. from National Law University, Jodhpur, Rajasthan. Email: hr.ashutosh@gmail.com


Dr. Vijender Singh Sidhu
Consultant- Capacity Building & Study Module/Manual Development
Educational Qualification: Bachelor of Homeopathic Medicine and Surgery from Rajasthan Ayurved University, Jodhpur, Rajasthan (India).
Email: ccp-research@policeuniversity.ac.in






1. Centre for Child Protection, Inaugurated on 6th May,2015 by Shri Manoj Bhatt, Hon'ble Director General of Police, Rajasthan

Centre for Child Protection is launching its 6 months - Certificate Course in Child Protection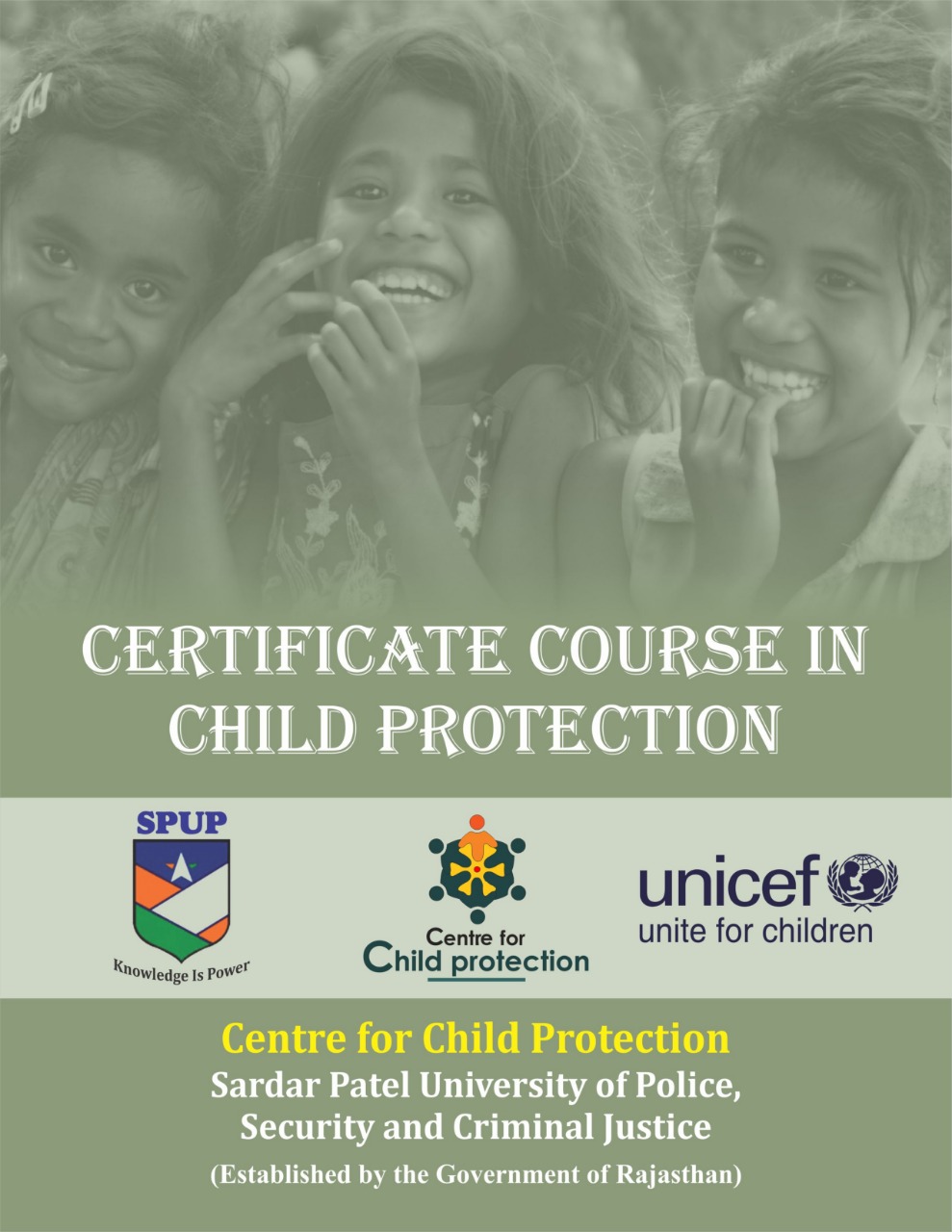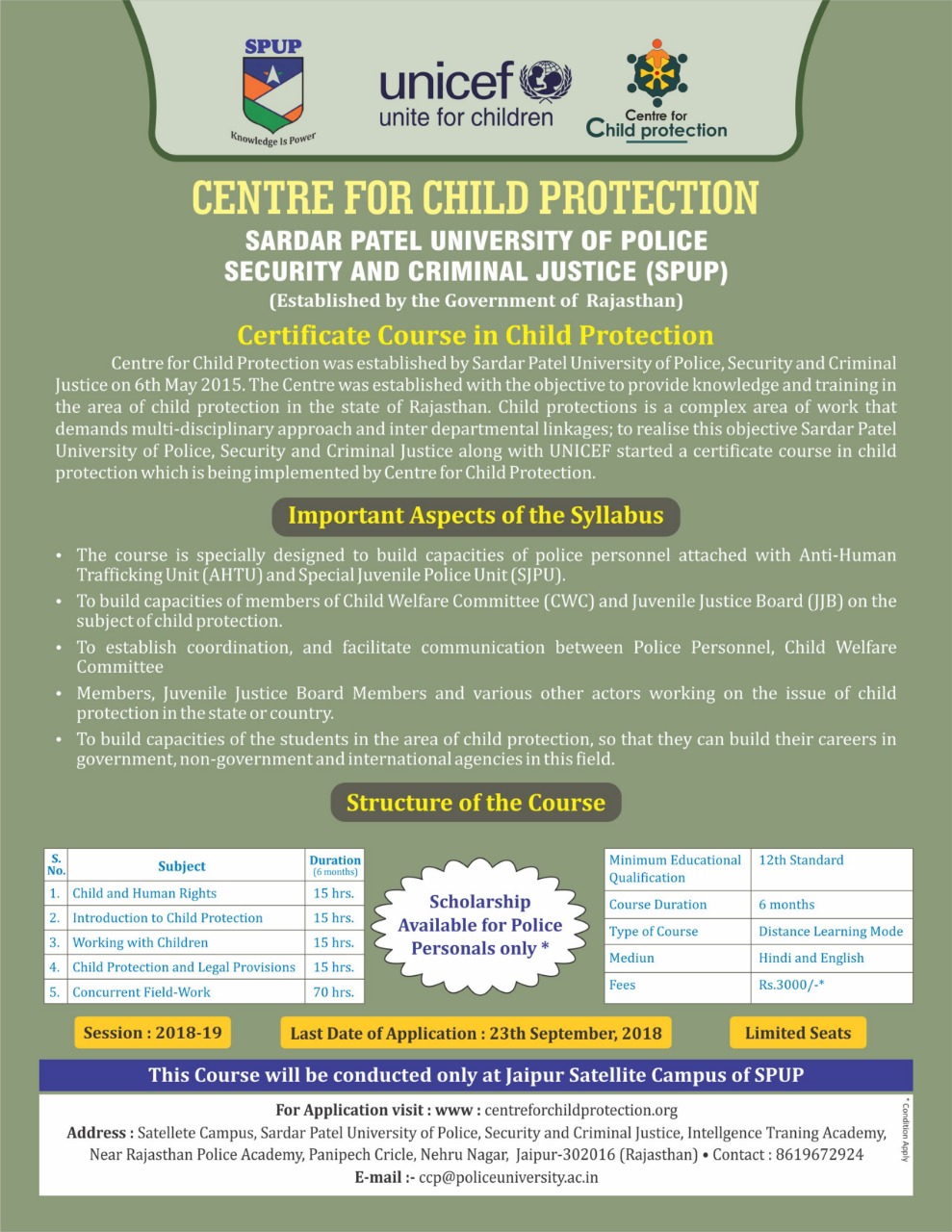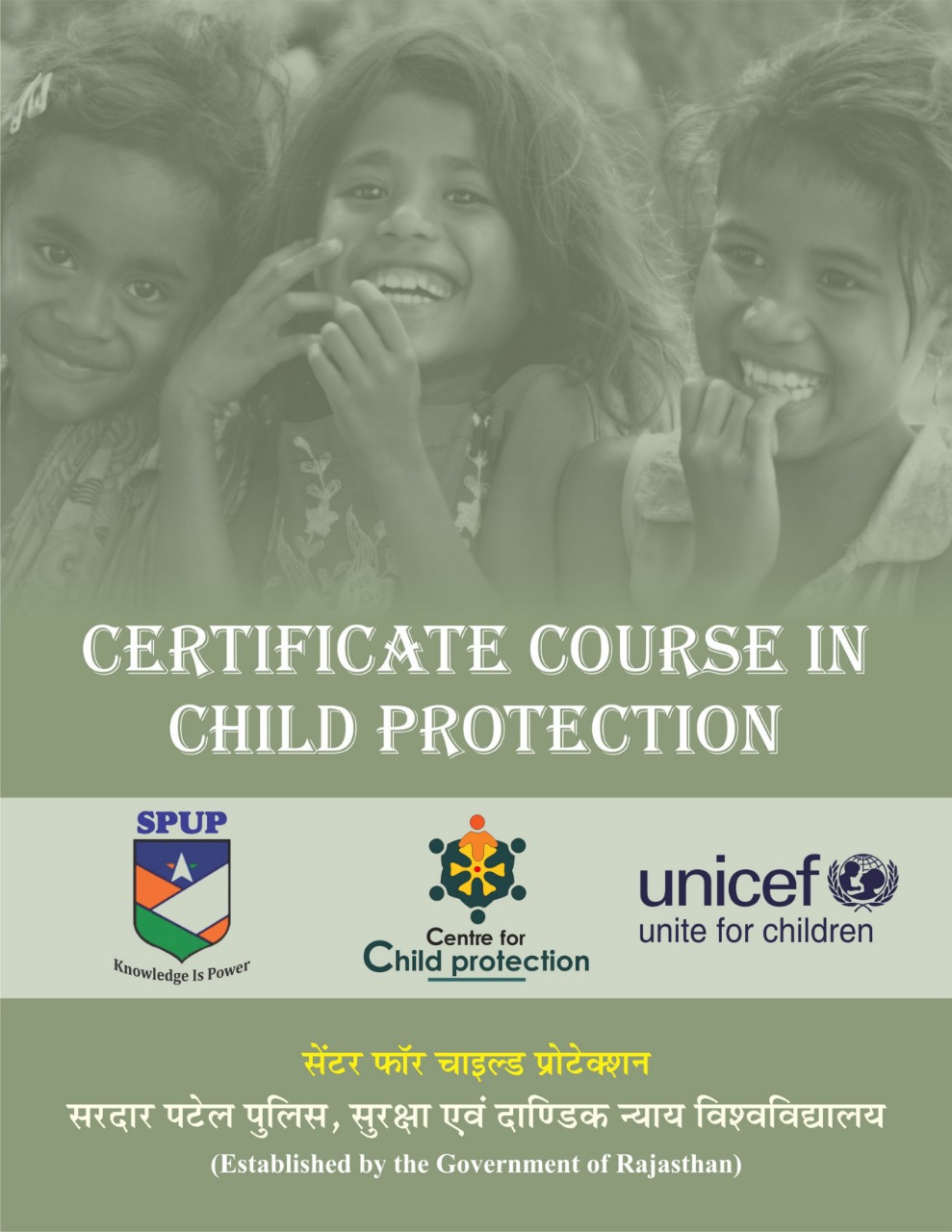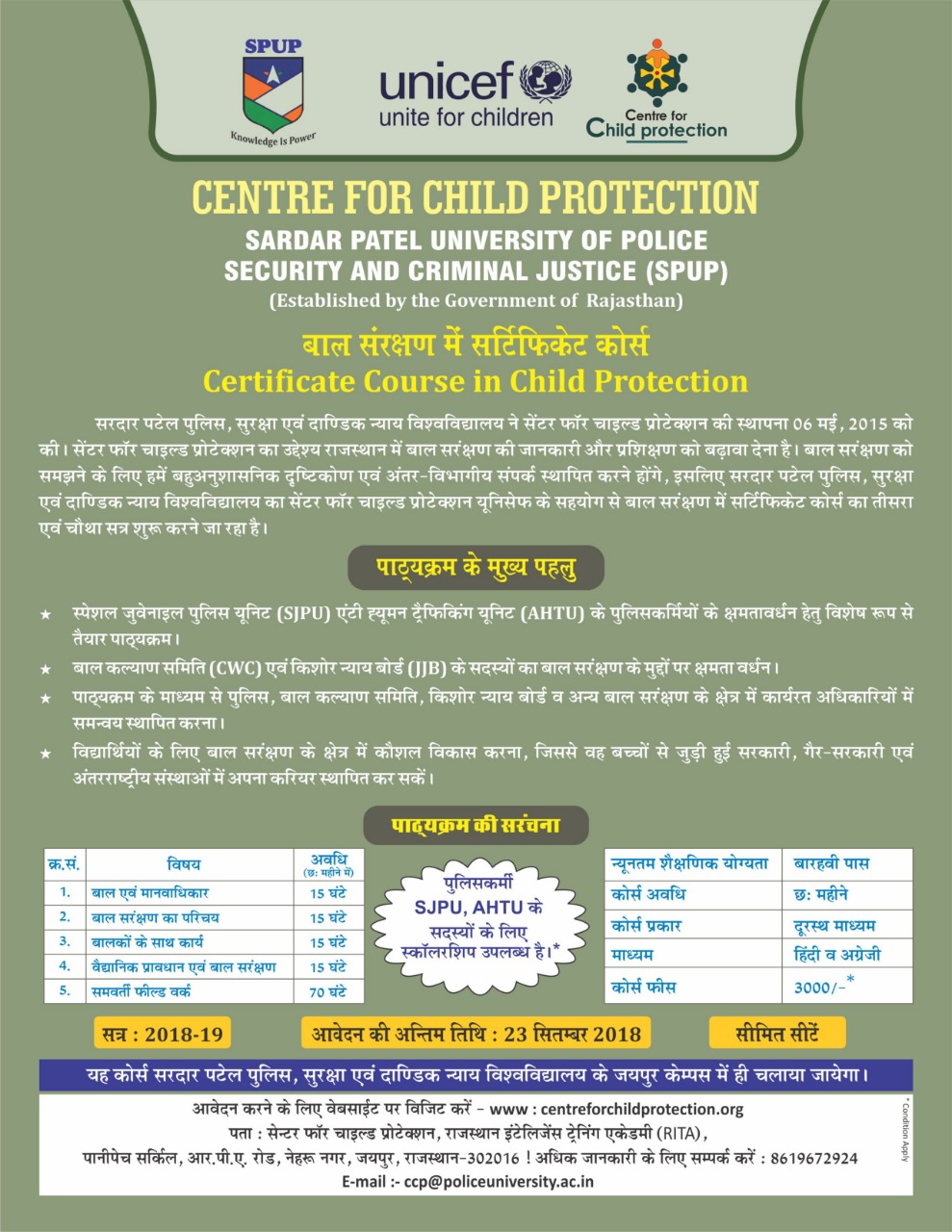 Download Details   :
information pamphlet 1
information pamphlet 2
course registration form
Launch of Free Online Course in Child Protection   :
Launch of Free Online Course in Child Protection by Centre for Child Protection SPUP in collaboration with UNICEF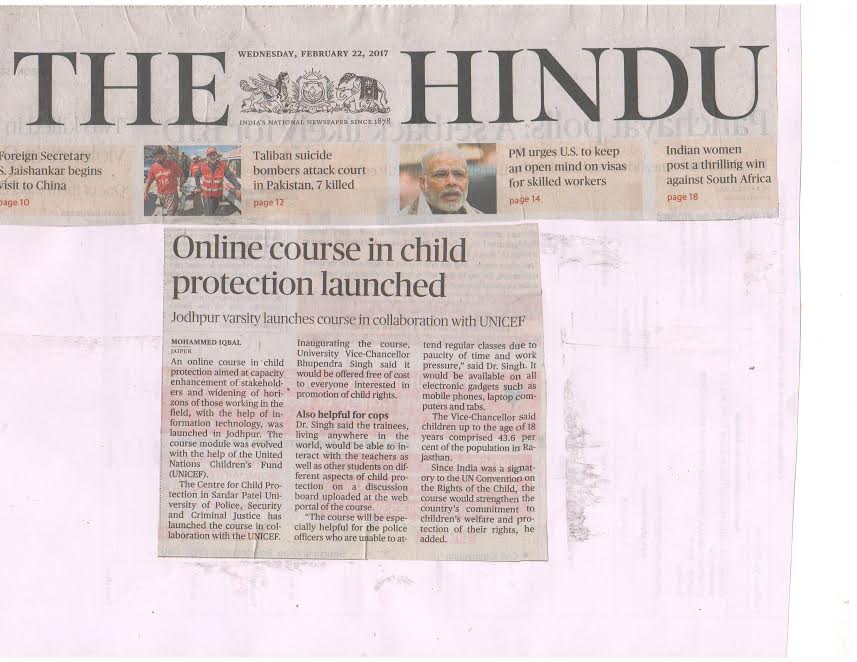 For More Details Visit Centre for Child Protection   :
Centre for Child Protection
call us on:86196-72924.
Centre for Child Protection, Satellite Campus, SPUP, Rajasthan Police Academy, Panipech Circle, Nehru Nagar, Jaipur, Rajasthan 302016.
Visit Our Website!